Looking for a quick, tasty recipe that will please the whole family? It's time you got to know the quesadilla. This Mexican Cheese Tortilla specialty is so easy to make that it will become your new favorite weeknight recipe, ready in no time at all. And the icing on the cake, sliced, the quesadilla is perfect for sharing as an aperitif!
This Mexican specialty is part of the antojito, literally "snack". Made from a soft pancake (tortilla) with corn or wheat, it is filled with "queso" cheese. You can then add vegetables or ground meat (beef or chicken in general) to make a nice hearty dish! You can therefore vary the pleasures and make this recipe all year round with seasonal ingredients.
But before we talk about variations, we invite you to test this minced meat quesadilla.
Minced meat quesadilla recipe
ingredients
8 tortillas
200 g grated cheese of your choice
250 g ground beef
3 sprigs coriander
1 can of corn
1 chopped onion
1 pinch of salt
1 teaspoon ground cumin
1 teaspoon paprika
1 pinch of pepper
1 pinch chili (optional)
3 cloves of garlic
½ tablespoon olive oil
2 tablespoons concentrated tomato

Put the olive oil in a frying pan and brown the beef with the onion and the chopped garlic cloves. When it has started to brown, add the spices and the concentrated tomato. Let the cooking finish and set aside.
Place a tortilla on your clean work surface. Put the cheese on half the surface, then the meat, part of the corn, some chopped coriander and again some cheese. Fold the other side of the tortilla over the top. Do the same with the other tortillas until you run out of ingredients.
Place a first quesadilla on a fairly flat, non-stick hot skillet. Let it brown for three to four minutes, until the side is golden and crispy. Carefully turn the tortilla on the other side and brown it again. Repeat for each quesadilla.
And here are some varieties to try: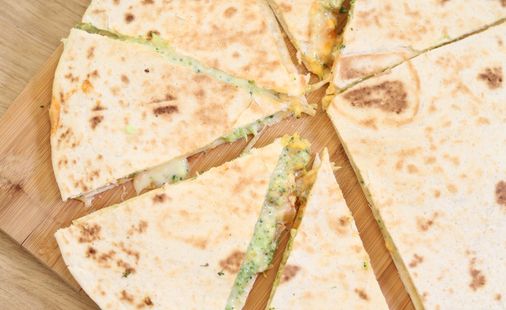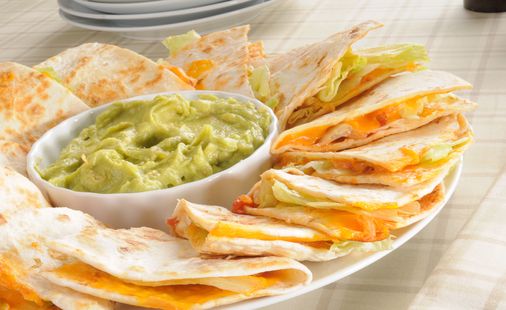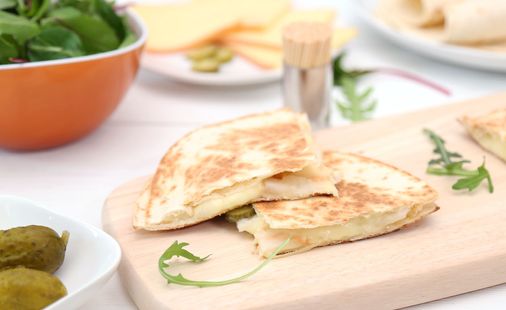 Discover 15 other Mexican specialties
Also read:
Our more economical pesto recipe, but just as good for your pasta
Our 3 ideas for aperitif skewers ready in less than 5 minutes
Frittata with peas: an easy spring recipe with few ingredients