The week from 19 to 25 September
Aventignan
Garga's Caves
Visit to the caves of Gargas
During the year, come and (re)discover the paintings and engravings made 27,000 years ago by Stone Age hunters. The Gargas location is open every day from 10:00 AM to 5:30 PM. Multiple tour departures are offered and reservations are required.
Incoming visit
Saturday 24 September from 9 to 11, in-depth visit to the caves. This 1h30 visit (instead of the usual 50 minutes) is aimed at prehistory enthusiasts, specialists or
lovers of Gargas who want to know more about the cave. Children from 16 years. Mandatory reservation. Limited to twenty people.
Caves of Gargas 05 62 98 81 50 http://www.grottesdegargas.fr/
Barbazan
Casino
Exposure
Until September 30 exhibition of drawings by Elsa Dedieu (https://www.petiterepublique.com/2022/09/14/barbazan-elsa-et-ses-dessins-au-casino/). FREE ENTRY.
Didier Gustin in signings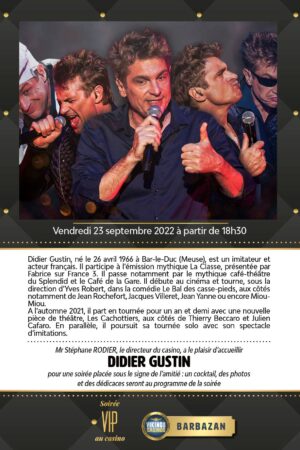 Didier Gustin, impersonator, comedian, TV and radio host, will hold a signing session on Friday 23 September from 18:00 in the conference room. In 1987 Didier Gustin went to Paris. His dream: to become an impersonator. From Café de la gare to Splendid, from the comedy Caumartin to Olympia, from France Inter, where he joined Laurent Ruqiuer, to Louis la Brocante and the great newspaper Canal +, he never stopped. In the cinema, we find him in Opération corned-beef, le bal des casse-pieds, in the skin of Jacques Chirac. Free access. Autograph session and photos in the slot room. Identity document required.
Literary presentation of Valérie Catala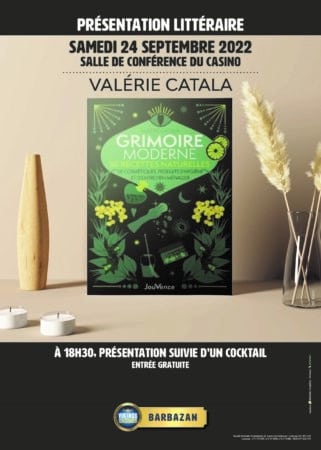 Saturday 24 September at 18.30, presentation of the modern Grimoire 50 natural recipes for cosmetics, hygiene and cleaning products for the household. This presentation will be followed by a cocktail. Free access.
Contact: 05 62 00 70 60.
Leave news
New timetables
From 1 September, Thursday to Saturday from 14:00 to 18:00. The Grange team could see that it was better to concentrate back-to-school activities on three afternoons a week so as not to prolong the slightly empty openings. The plan is to create a solidarity grocery store to increase opening hours. The collective organization will provide better accessibility for local and waste-free consumption. People are encouraged to come forward.
Coffee Frangines
Thursday 22 September at 2pm-5pm, Café Frangines. Do you live in Comminges, are you planning to start your own business or have you already started? Are you on your farm? Join Frangin's Network! The next "Café Frangines" will be held at the third location, Ideas are in the Grange.
Listen to parenting
Thursday 22 September from 14:00 to 18:00, listening to parenting. You are a parent and have questions or difficulties? Want to talk to a professional? Elise comes to meet the parents/grandparents every other Thursday at the offices at La Grange.
Confidentiality ensured by Elise, who is a professional in the Toulouse association EPE (Listening to Parents and Educators 31).
Available
The Barbazen
On Friday, September 23, from 17:00 to 20:00, Barbazen draws Oracles. Find AimeLine Rodriguez, psycho-energetic, with the choice: guidance or drawing an oracle. €30
La Grange, 8 Lake Avenue. 06 83 07 22 03 /
Clarac
Open door to country house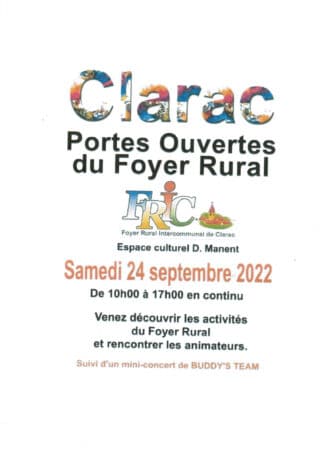 On Saturday 24 September from 10.00 to 17.00 non-stop, the rural home will present its various activities in the cultural center Dominique Manent. You can also meet the animators. This day ends with a mini-concert by Buddy's Team, a rock formation from ADAC.
Icewort
Sound journey, meditation
On Thursday 22 September at 18.45 in the community hall, meet for a sound journey. A sound bath invites you to let go, to deep relaxation and opens up a space of inner transformation. It enables a better circulation of energy in a beneficial and safe environment. Harmony and energy exist for greater well-being. Comes with bottom cloth, moisture before and after. Participation €15. If you want to sign up for the yoga class, go to: -Mauléon Barousse: Monday from 17:30 to 19:00 -Izaourt: Tuesday from 18:30 to 20:00 – Anla: Wednesday from 18:00 and harmony both physically and mentally. Organized by Yamuna Yoga. 06 79 69 88 03.
Theater
Friday, September 23 at 9 p.m. in the community hall. The company "Les Alouettes" presents their play "Les gens qu'on aime". Free and required participation. The family, it can sometimes be heavy, complicated, but can we really live without it? Arriving at the end of her life, Marie decrees that no one and at any cost her family will be reunited, even if it means inventing a story. Between smiles and tears, we realize very quickly that everyone is hiding something, but the truths must come out in order to meet the people we love.
Montrejeau
The explorers of time
Until Saturday 31 December from 9:30 to 12:30 and from 14:00 to 17:30 at the tourist information Get ready for a timeless experience! Equipped with a VR headset, immerse yourself in a virtual world during the 19th century. The adventure takes you to a mysterious laboratory run by an equally mysterious scientist, Eugénie Lagarde. Do not look for her on social networks, she lives only in the algorithms of the game. Eugenie is in trouble and only you, as a modern Indiana Jones, have the power to come to her aid. Information: 05 61 94 77 61 –
Tourist information office at 6 rue du Barry.
Nestiers
Aperitif in the garden
Friday, September 23 from 18.00 to 20.00 in the gardens of Mont Arès, come and enjoy a walk in the garden accompanied by a seasonal aperitif! To everyone ! Price: €10/person. 06 68 01 93 51
Discovery Saturdays, around a path.
Saturday, September 24 at 10 a.m. at the Jardins du Mont Arès. The principle of Discovery Saturdays? Full-day or half-day activities to discover know-how related to nature. On the programme: •10:00 a.m. to 12:00 p.m.: Discovery of natural tanning (child €15 / adult €20). •12.00: Country meal after reservation (child €10 / adult €15). •14.00 to 16.30: Discovery of plants and their uses during a walk (child €10 / adult €15). Sandy Mossion is coming and hosting this day! For adults and children over 12 years. Option to participate in the morning, afternoon or both. The day: €20 child / €30 adult (meal not included). 06 68 01 93 51
Holistic exercise workshop
The Moro Sphinx Association is back. Meet on Thursdays at 14.00 and Fridays at 10.15 for gentle workshops. You benefit from a personal follow-up in a small group. You explore your possibilities, which expand and reconcile with yourself. Upon registration. €16/lesson €50/month – i.e. €12.50 per lesson. Organized by the Moro-Sphinx association. 06 83 41 47 90.
Nistos
Mountain Glam Festival.
Saturday 24 September, mountain lamb festival at the resort's restaurant. Come and taste the lamb from Nistos! Hosted by ETHS Autes singers from ACJ Meals: €10. When booking. The refuge 06 02 26 37 51 / 06 56 89 76 78.
Saint Bertrand de Comminges
Trip to Lugdunum in Les Convènes
Until September 30, you can come and discover or rediscover the Roman city of Lugdunum, the marble quarries of Saint-Béat, the traces of their ancient exploitation and the symbolic works of the collection.
Games are offered free of charge to young audiences. Throughout the season, the archaeological museum will offer you a varied program: visits, conferences, concerts, theater… there will be something for everyone! Free entry, closed on Sundays and public holidays. The department's archaeological museum: 05 61 88 31 79.
The archaeological museum revealed
On Wednesday 21 September at 15.00 at the Archaeological Museum, the dissemination team presents archeology in all its facets: ongoing investigations, investigations of collections, analyzes of works, museology, archeology and cultural heritage subjects. All public without reservation. Duration: 30 minutes. 05 61 88 31 79.
Saint Laurent de Neste
VISITOR CENTER
The tourist office resumes its opening hours out of season and is open:
– Saint-Laurent-De-Neste office:
Monday – Tuesday – Wednesday from 9:30 a.m. to 12:30 p.m.
– Sarp office:
Thursday – Friday – Saturday from 9:30 a.m. to 12:30 p.m.
– Office of Aventignan – Caves of Gargas:
Every afternoon from Tuesday to Saturday from 13:30 to 17:30.
Concert
Friday 23 September at 8.30pm in the Maison du savoir, concert Miss Nine and little Haïdouti. Emotions in fanfare – When the music of little Haïdouti marries the sweet madness of the songs of Mlle Nine, it is a source of rare festive emotions. A world premiere of Saint Laurent de Neste, to delight your eyes and ears. Haïdouti Orkestar is today one of the flagship bands in the Balkan fog in France, in frequent collaboration with Ibrahim Maalouf. Part of the brass band will here join Mlle Nine's universe, full of magic and poetry. Her bohemian flame has already succumbed to many artists who have collaborated with her: Léna Coen, Manu Galure, Raphaël Théodore Bancou, Bernardo Sandoval, Didier Lockwood, Balkanbeats Berlin… The Maison du Savoir stage promises sparks! » 05 62 39 78 48 https://maisondusavoir.fr/ https://bit.ly/3zsN1gV
Saint Mary
Here & Elsewhere opens its doors
On Saturday 14 September from 10 am to 6 pm in the community center, Here & Elsewhere opens its doors. Meet Claude Eloi Liberman, painter, visual artist during the open house of the association Ici et Ailleurs to celebrate the 2022 – 2023 season: adults and children are invited to meet him and see the members' work, which will be exhibited. Contact: 06 28 57 66 60.
St. Paul
Garage sale
Sunday, September 25 from 10:00 to 17:00 in the community hall, garage sale of the association "le temps des loisirs". 05 62 99 00 87 / 05 62 40 22 48.
Troubadour
Introduction to climbing
Until September 29 from 10 a.m. to 12 p.m., family climbing introduction. Bring the family and participate in an initiation/discovery climb at the Troubat rock (approx. 2 hours). Meet at the quarry's car park (D22 in Thebes). Mandatory reservation. Prices: • 32€ / adults (12 years or over) • 28€ / children (under 12 years) The location of the climbing session can be changed depending on the weather and the composition of the group. 05 62 99 21 30.
Valcabrere
Garage sale
On Sunday 25 September from 07.00 the association Valcabrère Loisirs organizes a garage sale in the town hall square. Outdoor pitches: €2 per ch without table. Indoor seats: €3 for a table of 1.20 million. Drinks and meal trays on site (complete mixed salad served in the box, dessert and glass of wine or fruit juice – Price: €5) Contact: 06 78 35 53 30.