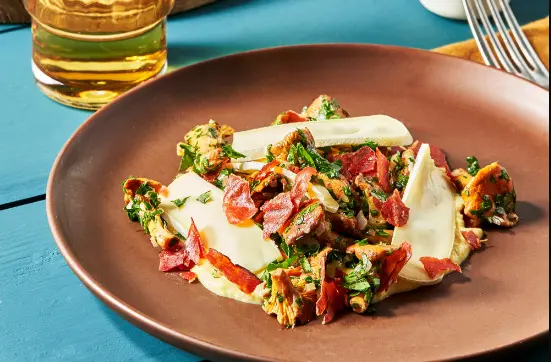 Chanterelle and Reblochon salad recipe @SIR-Images&Associés
If it is the star of winter menus, Reblochon is also available in autumn, in a salad version.
There has been a lot of talk about Reblochon lately. The reason: drought.
In the Alps, the lack of water and food for the cows – who have lost weight and the grass they eat has less energy – has severely limited milk yield. Consequence: less reblochon and a bit more expensive.
We also talk a lot about mushrooms, whose season starts (slowly, despite the persistent drought)
A few chanterelles – the yellow gold of our undergrowth -, a bit of smoked ham, a hint of corn, Reblochon, with a creamy and hazelnut flavour. This is the autumn salad (a recipe from the Reblochon interprofessional union).
For 4 people:
60 g Reblochon
200 g fresh chanterelle mushrooms
2 shallots
1 clove of garlic
1 bunch parsley
Olive oil
Balsamic vinegar
4 cobs of fresh corn or a 300 g can of sweet corn
1 liter of milk
4 slices Savoy smoked ham
Salt and pepper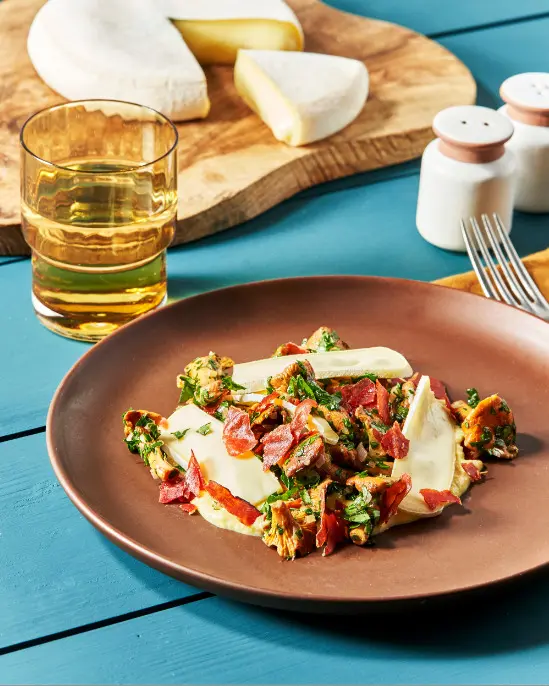 Preparation
Start with ham chips : Preheat the oven to 200°C. Place the ham slices on a sheet of baking paper. Bake them for about 12 minutes. Let it cool so that the slices become crispy. Roughly chop them by hand.
For Creamed Corn: Peel the ears and use a knife to recover the kernels. Put them in a pan with milk, salt and pepper and bring them to the boil. Leave to cook for approximately 30 minutes. Drain the corn and save the milk. Mix the corn, add milk gradually until you get a creamy consistency.
For chanterelle salad : Peel and finely chop the shallots. Place the parsley and chop it finely. Prepare the chanterelles by removing the end of the stems and brushing the mushrooms lightly with a damp paper towel. Cut the larger ones in half. Heat a frying pan with a drizzle of olive oil, cook the shallots until translucent, then add the chanterelles. Salt and pepper. Cook the mushrooms over medium heat for about 10 minutes. Place them in a salad bowl, add chopped parsley and season with olive oil and balsamic vinegar.
To serve, put the corn cream at the bottom of the plates, arrange the salad of warm chanterelles and the slices of Reblochon. Finish with smoked ham chips.